Green Office At Home Checklist
What is the Green Office At-Home Checklist?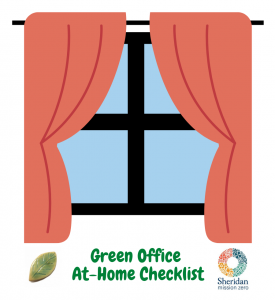 The Green Office At-Home Checklist is a self-evaluation checklist for you to measure your individual everyday practices for sustainability while working in your home workspace. It is a self-assessment that will help you understand your ecological footprint. The Checklist contains 12 questions covering five areas: waste reduction, energy conservation, water conservation, wellness, and COVID-19/additional initiatives. Once completed, you can calculate your score to determine your level of standing indicating how "green" your home office is. You can also explore tips for sustainable practices in the different areas while working at home on our resource page (below).
The Green Checklist has been developed in consultation with the Green Team. It was part of the Green Office At-Home Pilot Program which took place during July 2020.
It's beneficial to try the Green Checklist because…
You can become more conscious about sustainability in your home workspace
You are helping Sheridan implement "Mission Zero" even while working remotely
You can learn how to make your home office more sustainable.
How the self-assessment checklist works:
1. See if you can become an at-home "sustainability champion"! Complete the self-assessment checklist (find it Green Office At Home Self-Assessment Checklist_Official) and respond to the 12 questions. Corresponding scores will appear in the "scoring" column based on your response. Be as honest as possible!
2. Your score will add up automatically at the bottom of the checklist. Once you know your score, you can determine your level of standing for your current practices:
Total Score                    Level of Green Practices in Home Office
41 to 46                          Exemplar
36 to 40                          Highly Developed
20 to 35                          Moderately Developed
10 to 19                          Emerging
0 to 9                              Initial
3. See which categories you can improve in and continue working towards a greener office! Check out these Green Office At-Home – Resources with some tips for improving your home green office practices.
You are welcome to contact us or tag us on social media to share your experiences with it!
Your Feedback
Enjoy the test and let us know what you think!
Questions?
Anyone at Sheridan who wants to learn more about the Green Office At-Home Checklist, please don't hesitate to contact the Office for Sustainability by email at missionzero@sheridancollege.ca