HVAC Air Handling Units
Problem Diagnosis
Have you noticed areas on campus that are consistently too hot or cold yearround? Have you wondered why the air in Trafalgar's E-Wing and Davis' J-Wing seems fresher than in other buildings? In this article, we address why certain buildings are "stuffier" than others, and how this relates to energy consumption.
In its review of HVAC systems throughout the four campuses, the IECMP team discovered that many spaces exhibit cold, clammy, or uncomfortable conditions throughout the seasons. The following problems were identified with many of the existing air handling units, which are responsible for delivering conditioned air to spaces throughout a building: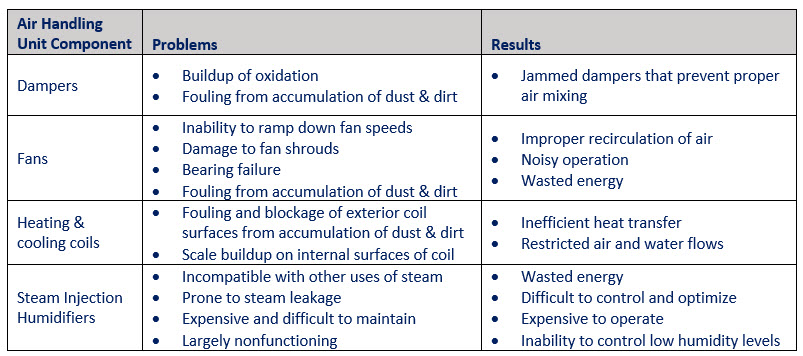 The issues with HVAC stem from the fact that the earliest systems at Sheridan were installed during the construction of the first campus buildings in the early 70s. Now, at 40+ years old, most of this original HVAC equipment is reaching the end of its nominal service life and struggles to keep up with current building occupancy and uses. These systems were designed to different heating, cooling and ventilation requirements and, as such, are poorly suited to maintaining comfort conditions. Humidity control is vital to maintaining the health and comfort of all occupants. High humidity creates a host of problems including the growth of mildew and mould and damage to building components. Low humidity can induce symptoms such as throat irritation, itchy eyes, dry skin, and static buildup. It also makes rooms feel colder than they actually are. In spaces with low humidity, occupants have an elevated risk of acquiring respiratory infections. As indicated by the graphic below, the ideal humidity level is between 35-50%. The American Society of Heating, Refrigeration and Air Condition Engineers (ASHRAE) recommends that winter humidity levels be maintained above 30%.
The IECMP team has determined that its focus will be on restoring and upgrading units to modern design conditions while improving humidity control, air supply control, and overall system management in the air handling unit without wasting energy.
An Integrative and Technological Solution
A variety of methods have been employed to improve the efficiency of the air handling units: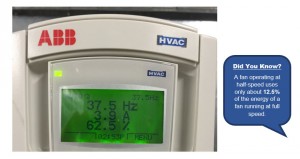 The installation of variable frequency drives (VFD) on the fan motors allows the system capacity to match actual loads throughout the year. Energy savings are achieved by reducing the fan speed in proportion to the total demand for air. In the photo below, a VFD is operating one of Sheridan's fans at only 62.5% of full speed. Most Sheridan HVAC systems use fans (such as the centrifugal fan in the first photoset) to deliver building air at a constant volume regardless of the actual cumulative demand for air from all the spaces. Though dampers may control the amount of air entering a space, these fans will continue to spin at full speed, consuming roughly the same amount of energy.
The comprehensive overhaul of the HVAC system provided the opportunity to carry out additional maintenance. Let's call it our "100,000-mile tune-up" which included:
Cleaning and de-scaling of heating and cooling coils
Removal of fouling from the fans, louvres and dampers
Replacement of damaged filter assemblies
Replacement of corroded units
The incorporation of computerized "energy valves" has allowed the team to establish precise control of the quantity, temperature and timing of heating and cooling water to coils. This permits optimization of the large heating and cooling equipment in our central plants.
The Results
The major upgrades and additional maintenance to the air handling units have greatly improved Sheridan's control of humidity and temperature in each building. Best of all, the updated HVAC systems are quieter and significantly more energy-efficient.
Cleaning and de-scaling have helped ensure that components operate as intended. As a result, we have greater control of how much air is being mixed so we can better manage humidity levels and temperature swings. Variable air volume (VAV) units have also been installed throughout the buildings to provide tighter control of humidity and temperature in individual spaces. We will discuss this innovative technology in a future article.
Overall, occupants in Trafalgar (E-Wing, G-Wing, parts of C-Wing, and SCAET) and Davis (J-Wing, parts of B-Wing and C-Wing) should be experiencing a "fresh air" feel. Though you may not ever see one of these upgraded "invisible" air handling units, you will know that they are working behind the scenes to keep you comfortable.