Performance Tracking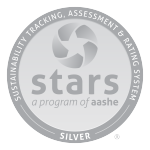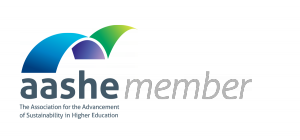 In April 2015, Sheridan College was awarded a Silver sustainability rating using the Sustainability Tracking, Assessment & Rating System (STARS). We are currently awaiting the award of the Silver rating again in 2018. Although the rating has not improved, the overall score has increased between 2015 and 2018, inching Sheridan closer to a Gold STARS rating.
STARS is a 3rd party, "transparent, self-reporting framework for colleges and universities to measure their sustainability performance". It is a program of the Association for the Advancement of Sustainability in Higher Education (AASHE), of which Sheridan is a member. There are currently about 700 institutions across 6 continents and 21 countries that are participating in STARS to gain recognition for their sustainability efforts.
In addition to tracking our institution's environmental impacts, STARS also covers the social and economic aspects of sustainability. This "triple bottom line" approach is sometimes called People, Planet, and Profit. STARS provides a framework for assessing not only the operational performance of the school (such as energy efficiency, waste diversion, greenhouse gas emissions reduction, water conservation, etc.), but also the availability of sustainability in course offerings, sustainability research, diversity and affordability, the wellbeing of employees and students, campus and public engagement, and much more. Additional information about what's covered can be found here.
In 2012 Sheridan College participated in STARS and received a Bronze rating. The rating is valid for three years; however, schools can choose to submit a report every year. The OfS, including co-op students, worked with Faculty and staff to gather data and information for its second STARS submission. This time around, with better information and data tracking, along with the hard work we've done on energy efficiency and Zero Waste (among other efforts), we were awarded a Silver rating.
We thank everyone who helped with providing data and filling out the assessment, without whom this wouldn't be possible. The data collection for the STARS survey spanned nearly every department across all campuses.
Sheridan's STARS report is available on the STARS website. For more information about sustainability at Sheridan visit sustainability.sheridancollege.ca. If you have any questions or comments about this achievement, please email anna.pautler@sheridancollege.ca.