Weekly/Bi-Weekly Bike Rentals
Do you want an alternative transportation option? Biking is a great way to save bus money, save time from walking, get some exercise, and to explore the city. On average, it takes people about 20 minutes to ride 5 km. How far do you live from campus?
You get the convenience of using a bike without the worry about repairs or what to do with it if you need more flexibility in your life right now. The HMC and Davis Bike Hubs offer weekly and bi-weekly rentals to full-time students and staff.
PRICING:
For the refurbished bikes: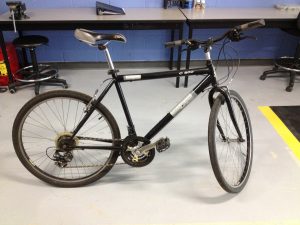 $7 per week rental (up to 7 days)
$14 per two-week rental (up to 14 days)
For the Norco Cruiser bikes with rack and baskets: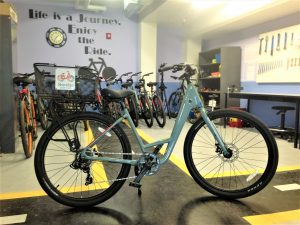 $14 per week rental (up to 7 days)
$28 per two-week rentals (up to 14 days)
All payments are final. For example, you will not receive refunds for returning the bike earlier.
Our Shop Hours until end of October:
Davis Bike Hub                      Tuesdays                                10 a.m. – 3 p.m.
Davis Bike Hub                      Wednesdays                          10 a.m. – 3 p.m.
HMC Bike Hub                       Thursdays                              10 a.m. – 3 p.m.
HMC Bike Hub                       Fridays                                    10 a.m. – 3 p.m.
The bike rental at the Davis Bike Hub is located at Portable #7 at the back of Parking Lot 5, and the HMC Bike Hub is located at Entrance A9 across Scholars' Green Park/ Rainbow bench.
REGISTER TO RENT A BIKE
*Only Sheridan full-time student, staff, or faculty with a OneCard can rent a bike
Step 1: Students need to log into Student Centre, click on the Drop Box, and Select "Enrollment Verification" (see image below).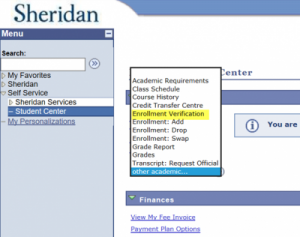 Step 2: Read the Terms and Conditions and register online.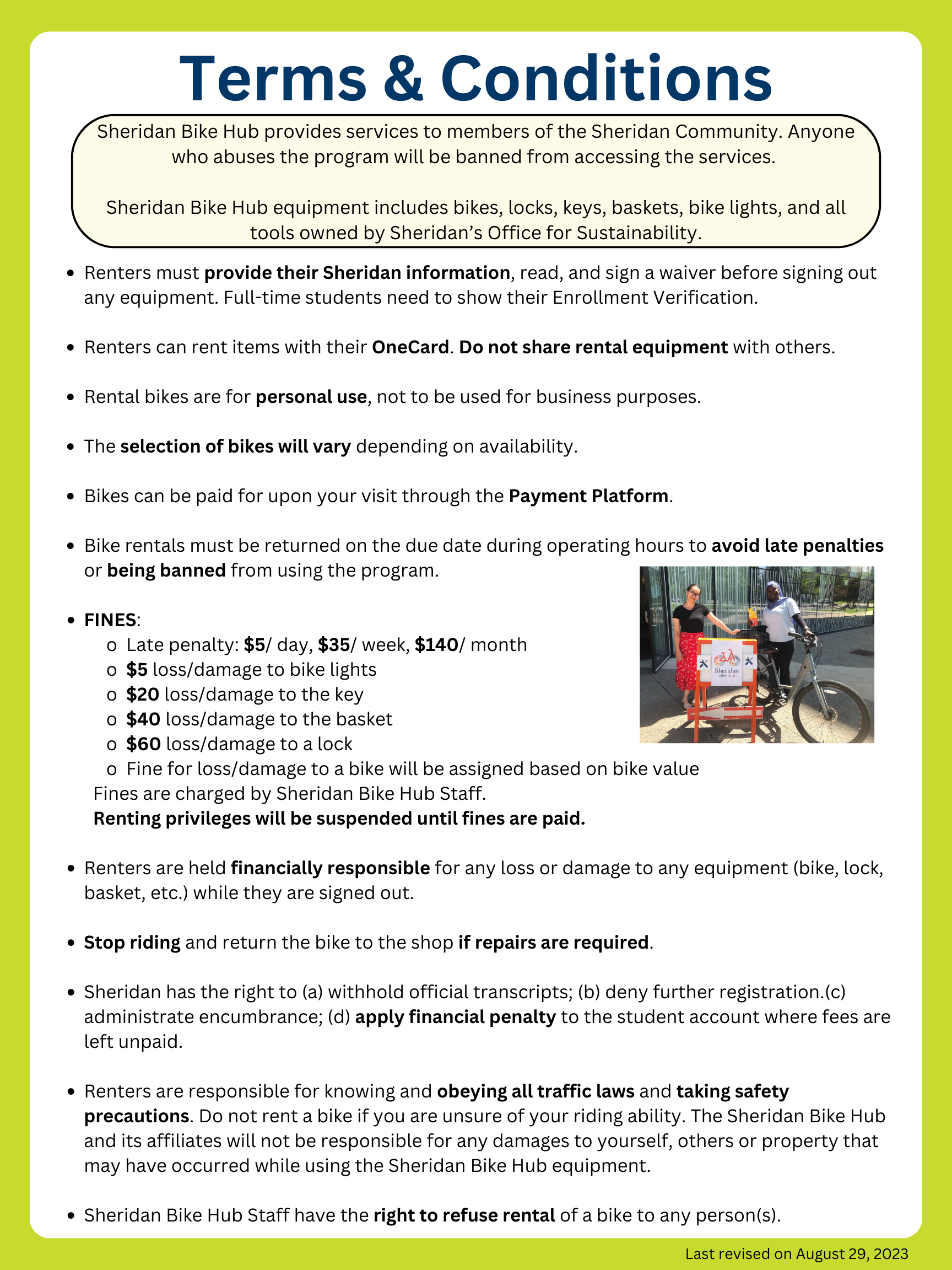 Step 3: Read and sign the online waiver.
Step 4:
If you plan to rent a bike, review the Cycling Safety workshop (scroll to Online Workshops, video #1 (length of video is 35:17))
BOOK AN APPOINTMENT
Book an appointment to pick up or return a bike at the Davis or HMC Bike Hub.
Remember to follow all the COVID-safety precautions. If you feel unwell, please cancel your appointment, and stay home.
Email SheridanBikeHub@sheridancollege.ca if you have any questions.
Group rides are made possible for students that don't have bikes and are looking for ways to socialize.