Recognize your Mission Zero Hero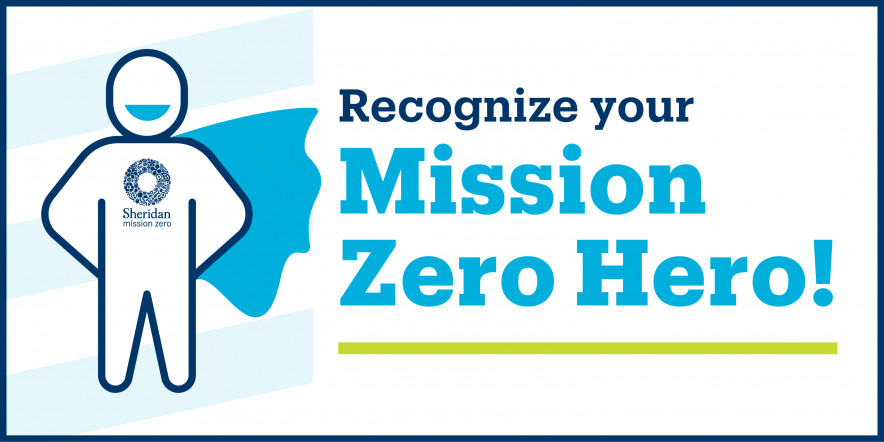 Who has inspired you with their sustainability efforts? 
Do you know someone who actively participates in Meatless Mondays? Who goes out of their way to pack a reusable water bottle or coffee mug wherever they go? Who composts or fights food waste?
If a classmate, colleague, professor or student comes to mind, we encourage you to put their name forward for "My Mission Zero Hero" – a Sheridan Green Team-organized campaign open to anyone who studies or works at Sheridan.
Now in its third year, My Mission Zero Hero aims to recognize all Sheridan community members whose actions, big or small, show they are passionate about making a positive change for their environment and community.
Sustainability is top of mind for many right now. And while tackling global issues like climate change, biodiversity loss and pollution can seem daunting, small actions in our daily life can make a big difference. We want to recognize and appreciate those heroes within the Sheridan community who are taking planet-friendly action and inspiring others along the way.
Submissions, which include a short written and photo component, will be curated and shared on Sheridan's social media channels and other digital platforms in April and will wrap up with a final recognition of all heroes on Earth Day – April 22.
Who is your Mission Zero Hero?
Click here to recognize your Mission Zero Hero. Please submit the form by March 24.
Looking for inspiration?
Meet Sheridan's 2021 and 2022 Mission Zero Heroes!
What's Mission Zero?
Mission Zero is Sheridan's framework for institution-wide sustainability initiatives. It is an ambitious mandate to re-envision the College's energy future, make significant reductions in its institutional footprint, and meet breakthrough performance targets.
It is guided by the institution's Office for Sustainability and represents operational and cultural goals, driven by Sheridan's Sustainability Policy. Mission Zero embodies the journey toward transformational systemic change and accelerates the creation of campus-wide sustainability culture.
Contact us
If you have a question about this campaign, please email missionzero@sheridancollege.ca.
Thank you in advance for your participation in this campaign!