Office Cleanup
If you are planning to clean up or move your office, here are some tips for waste sorting:
1. Consider reuse before recycle.
2. Recycle items that cannot be reused.
3. Dispose of items that cannot be reused or recycled.
REUSE TIPS
• Use a cabinet in your office to store reusable supplies for sharing.
• Whenever possible, reuse binders and remove print paper for recycling.
• Scrap blank paper can be used as memo pads.
• Cardboards can be recycled on campus.
• Consider donating stationery, photo frames, art pieces and other gently- used items to local charities.
RECYCLABLE ITEMS
• Used paper products (e.g. sticky notes, notebooks – remove any binding coils)
• Cardboard (flatten them)
• Plastics
• Metal materials

LANDFILL ITEMS
• Not recyclable used stationary (e.g. erasers, rubber bands)
• Single Use Plastics (e.g. cutlery, wrappers, bags, packaging)
• Other (e.g. styrofoam, canvas boards)
OTHER ITEMS AND FAQS
How to dispose of confidential documents?
Please follow Sheridan's policies on records management and privacy, which is available on Access Sheridan or in Sheridan's Policy Viewer. For details, please visit the RIM website.
How to dispose of electronic waste?
Old, broken, unusable electronics of low value (i.e. mice, keyboards, cables, adapters, small desktop printers, etc.) can be disposed of at e-waste recycling bins located at Shipping and Receiving. More information about recycling your e-waste as Sheridan can be found here.
How to dispose of hazardous waste?
Hazardous waste items are picked up quarterly. For any questions, please contact Health and Safety Department.
Where to donate non-perishable, unopened food items?
Food Donation drop boxes are located at the Student Centre and various buildings in each campus. Please contact Sheridan Student Union for any questions.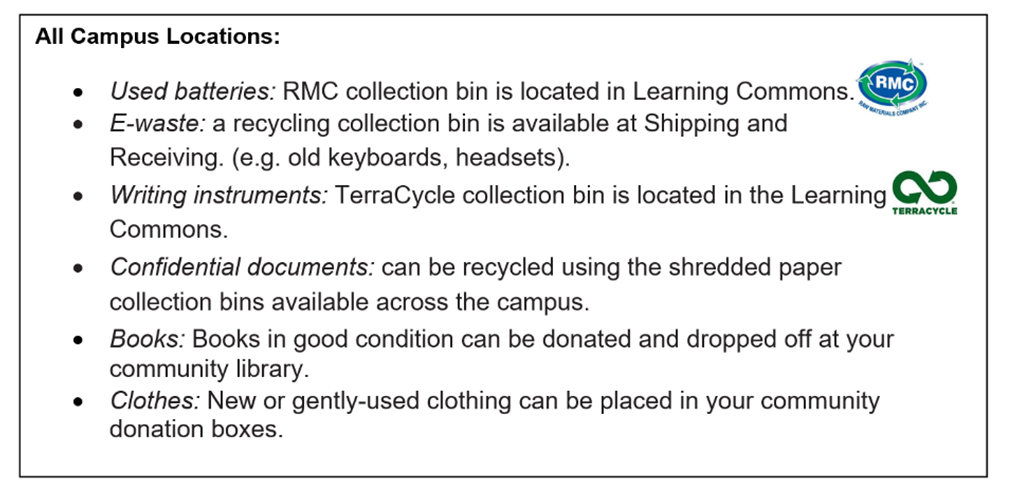 Here are some other tips for sorting your office waste correctly: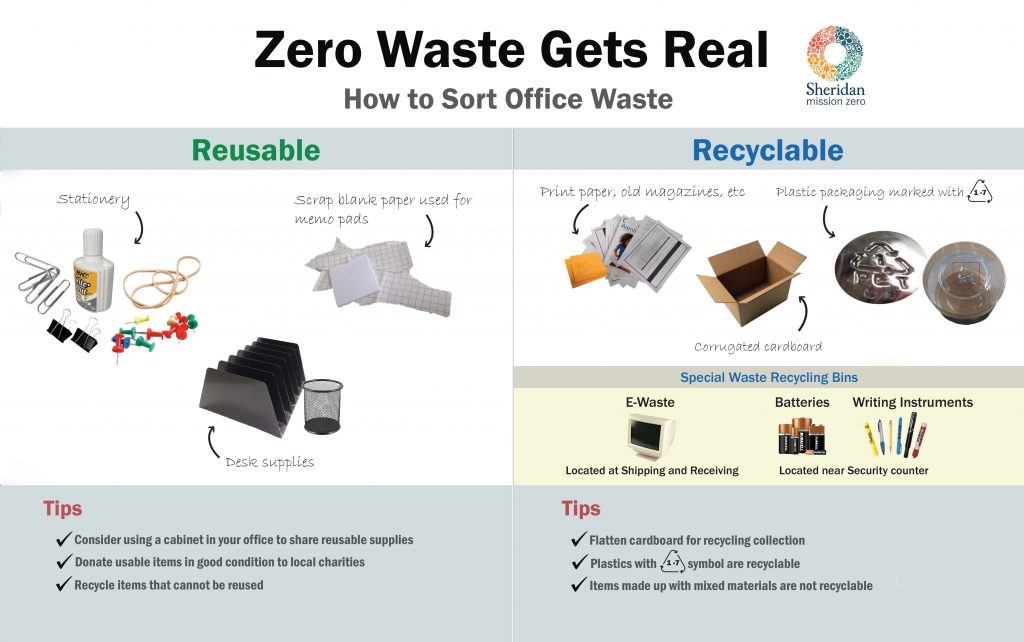 You are welcome to download these waste sorting guidelines by clicking the links below:
If you have any questions about sorting your office waste, you can email the Office for Sustainability at zerowaste@sheridancollege.ca
If you need to request waste bins for bulk quantity items, please contact Facilities and Sustainable Infrastructure Customer Service –
Email: facilities@sheridancollege.ca
Internal extension: 2255
External direct line: 905-815-2255