Zero Waste initiative: Exterior bin prototypes unveiled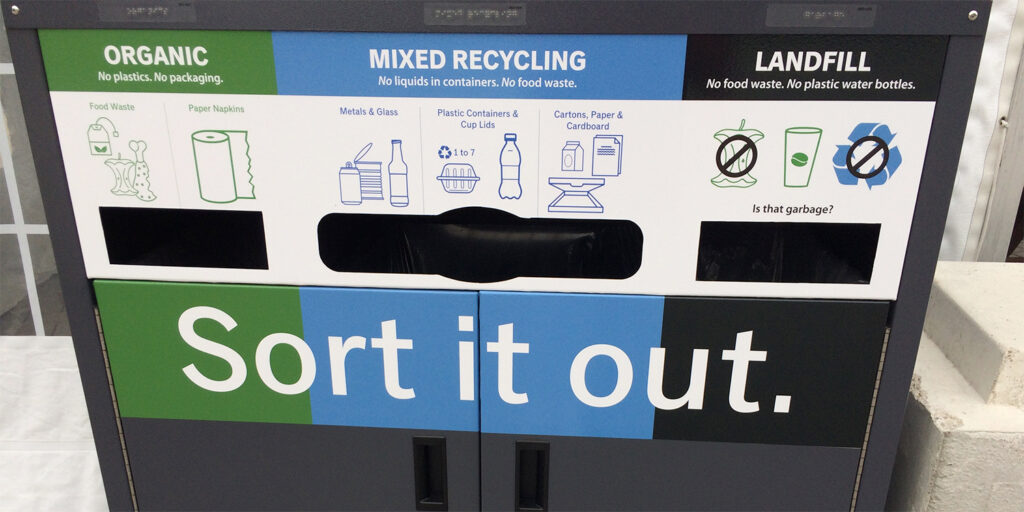 As part of Sheridan's Zero Waste initiative, the Facilities team has been working with the college's bin manufacturer in the design and development of new exterior waste bins which will be installed at all three campuses.
Two prototype units have been produced and are now on display at the Trafalgar and Davis campuses.
Bin locations:
Trafalgar Campus: SCAET building entrance
Davis Campus: H-Wing entrance
Like our interior waste bins, the exterior bins are made of galvanized steel. Three slots are designed to collect waste in three categories (organics, mixed recycling and landfill waste). The slots are consistent with our interior bins and colour-coded in green, blue and black. Braille labels are also provided to assist with bin identification.
We want to hear from you!
We are looking for feedback from the Sheridan community. Your input will help us improve the design of our exterior waste bins to ensure they are user-friendly and encourage proper waste-sorting.
You are welcome to email us your comments by November 19 at missionzero@sheridancollege.ca.
Those who submit their comments by the deadline will be entered into a draw to win a $25 Sportchek gift card.