You're invited: Mission Zero annual cleanup event – June 21 – 30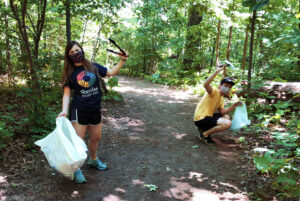 Get your gloves on and your garbage bags ready! The Mission Zero annual cleanup event is currently underway. We are now extending the event date to June 30. The cleanup photos you share with us will get you a chance to win a raffle prize!
This year we're inviting you to participate by cleaning up your local greenspace. Whether you've spotted litter in your local park, wooded area, or on your favourite trail, our environment can always use a helping hand.
How to participate
Pick a date during the week of June 21-30 and set aside 30-60 minutes for your cleanup. Then select your area and prepare for your outing. You'll need gloves or a picker for collecting litter and garbage bags to place the items in. When you're finished, make sure to sort the trash. Plastics, disposable masks, and food containers belong in the black landfill bins. Pop cans, cardboard and water bottles can go in the blue recycling bins.
Show off your efforts (and maybe win a swag bag)
You should be proud of your hard work! Sheridan's Mission Zero team wants you to send pictures of your progress. Sending a photo will automatically enter you into a raffle for the chance to win one of five prizes. Make sure to tag us or message us on Facebook or Twitter using #MZCleanItUp, or email us at missionzero@sheridancollege.ca. See full contest details below.
Why it matters
Garbage and greenspace don't belong together. Litter spoils the natural beauty of the planet, and it's harmful to wildlife. Food waste and wrappers can disrupt food chains and harm wildlife as well. Plastics don't decompose and will stay in the environment unless we pick them up.
Did you know that sorting your trash is equally as important? In order for recyclables to be recovered, they need to be sent to the right location.
Stay safe
As always, please be mindful of Ontario's rules concerning social distancing and wearing masks. Bring some hand sanitizer. Check the weather before heading out and plan accordingly. Put on sunscreen and remember to stay hydrated (psst… bring a reusable water bottle!)
---
Raffle information
Available prizes
Mission Zero bag: Mission Zero t-shirt, water bottle, gift bag, tote bag
'Get Your Sweat On' bag: Two (2) water bottles, reflective tape, tote bag
Bike bag: Bike water bottle, two (2) bike lights, reflective tape, bike ringer, tote bag
Tool bag: Mission Zero shirt, multitool, bike ringer, outdoor handbooks, tote bag
Sport Chek gift card ($25)
Guidelines
A photo submission must include the following:
1. A photo of you in the location you cleaned.
2. The bag of litter that you picked up.
Submissions will be open until June 30 at 11:59 p.m. Each person is allowed one submission per day, with a maximum of seven entries total. If there is more than one individual in the photo, the person who contacted us will receive the entry. Winners will be notified from July 5-8. Should you win the raffle, winners will be contacted on the platform they submitted their photo(s). One prize package per individual.