Student and Employee Commuter Survey!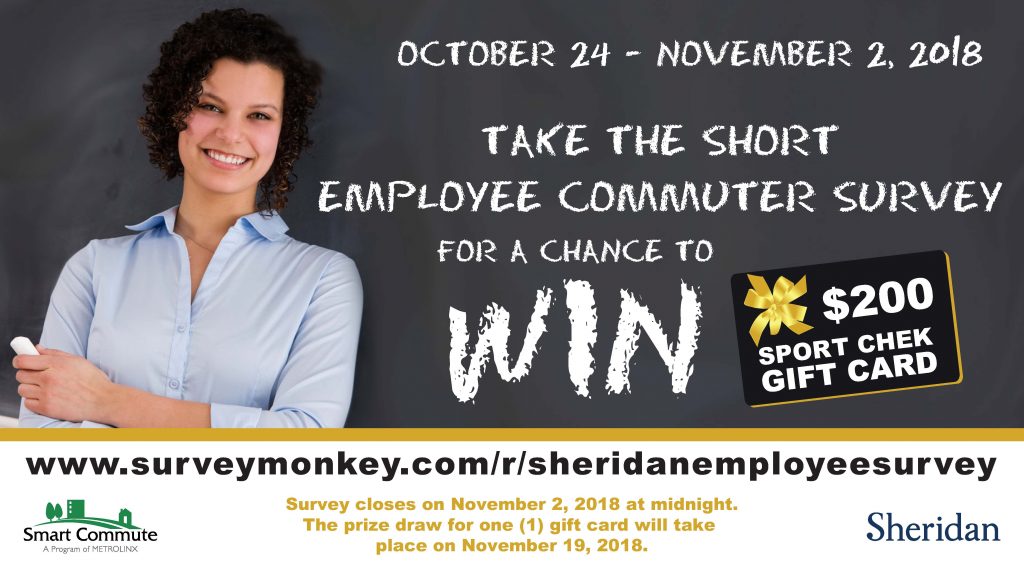 What's your commute like? Please tell us!
You're invited to take an important survey about your daily commute. This survey will help us determine how to further assist employees and students with their commute to campus.
Sheridan, in collaboration with SustainMobility and Smart Commute Halton, has introduced the Smart Commute Program to all three of its campuses to support sustainable commuting options.
Employee survey: October 24 – November 2
Student survey: November 5 – 16
Click the links below for the employee and student surveys:
Take the survey now: www.surveymonkey.com/r/sheridanemployeesurvey
Take the survey now: www.surveymonkey.com/r/sheridanstudentsurvey
Great news! Every participant will be eligible to enter a draw for a chance to win a $200 Sport Chek Gift Card!
We thank you in advance for your voluntary participation. Your input will help us make informed decisions to provide the best service possible. If you have any questions, please feel free to contact the Office for Sustainability at missionzero@sheridancollge.ca.