Creating Sheridan's Medicine Wheel Garden – Callout to Planting Volunteers
The time is almost here! We are just finalizing the perimeter of our Medicine Wheel Garden and getting it ready for the planting event on September 16th. Sheridan College will have a Medicine Wheel Garden right in front of J-wing building at the Trafalgar campus.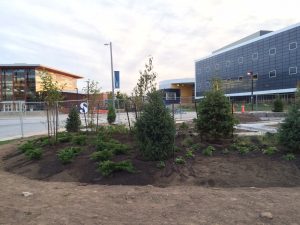 Outside of the wheel there will be trees and shrubs that will provide shade as they mature. The large stones are there for students to sit and enjoy being outdoors and possibly have outside lectures! The native grasses are there for their hardiness and look beautiful when surrounded by snow in the winter.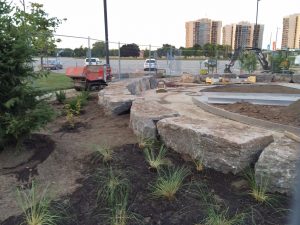 Inside the Medicine Wheel will be split into four sections, all of which will include Southern Ontario plants (flowers and grasses) that attract pollinators. The garden will have plants that flower during spring, summer and fall, and during winter the grasses get their shine due to their intriguing foliage (leaves).  A section will have flowers of the same colour and each section will have a different colour. Each colour will correspond with the four colours of the Medicine Wheel. As a volunteer, you will be given guidance to help us plant some perennials within the four sections.
For more details on the development of the Medicine Wheel Garden check out our post in the Sheridan Insider.
We are currently looking for volunteers for our Medicine Wheel Garden planting event. Please sign up here to join us on Saturday September 16th at 10 am to 12 pm.