Sheridan Bike Hub Updates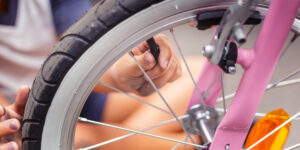 The Sheridan Bike Hub is open and ready to provide you with modified services!
The hours of availability are Tuesdays to Thursdays from 9 a.m. – 5 p.m. at the Davis Campus (appointment only). You can also connect with us virtually for repair guidance and digital workshops. All services continue to be free of charge with the ongoing support of the Region of Peel and the Healthy Communities Initiative grant.
We keep everyone safe by following COVID-19 safety protocols. Anyone who comes to the Bike Hub for their appointment will be reminded to follow the Sheridan Alert app self-assessment screening, wear a mask and social distance.
See what's new below.
DIY repairs and outdoor repairs
Do-it-yourself repairs have been modified for bike drop-offs and basic tune-ups through appointments at the Davis Campus.
This summer, we will be offering outdoor bike repairs to the public on Wednesdays from 10 a.m. – 2 p.m. in parking lot #5 at the Davis Campus. Book your appointment today!
Mentorship program
The mentorship program partners new cyclists with seasoned cyclists to help beginners gain confidence in their riding skills. All students and employees are welcome to participate. The program will run from June to August, and mentee participants can borrow a bike for the duration of the program.
Please let us know if you're interested in being a mentee or mentor by June 30. 
Free bike rentals
The free bike rental program is available at the Davis Campus, portable #7 by the M-Wing. Please follow these steps to register online before booking an appointment for bike pick-up.
Contact us
Please contact Vicki at SheridanBikeHub@sheridancollege.ca for any questions.