Repair Café Workshop: Sew for Sustainability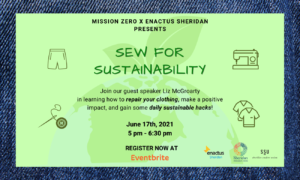 Sheridan Enactus, in collaboration with the Office for Sustainability, is offering a fun and free workshop for people who want to learn how to repair their clothes. Everyone is welcome to join!
As a participant, you will learn about the environmental impact of fast fashion and gain the skills for a few daily sustainable hacks.
Guest speaker
Liz McGroarty is an experienced sewing fixer at Repair Café Toronto, and she has volunteered frequently at Sheridan's Repair Café events. Liz first brought her sewing machine to a Repair Café event to be fixed, and she kept coming back to help others. Having four daughters, she sewed a lot of her family's clothing and curtains. She now enjoys ensuring others learn the pleasure of being creative with clothing repairs.
Workshop details
Date: Thursday, June 17
Time: 5 p.m. – 6:30 p.m.
An event link will be provided to those who have registered.
We hope to see you there!