Repair Cafe – Trafalgar Campus on March 21

Sheridan is hosting its next Repair Café event on March 21. Get free help fixing your broken items, and more importantly, learn from expert volunteer "fixers" about how to repair items yourself!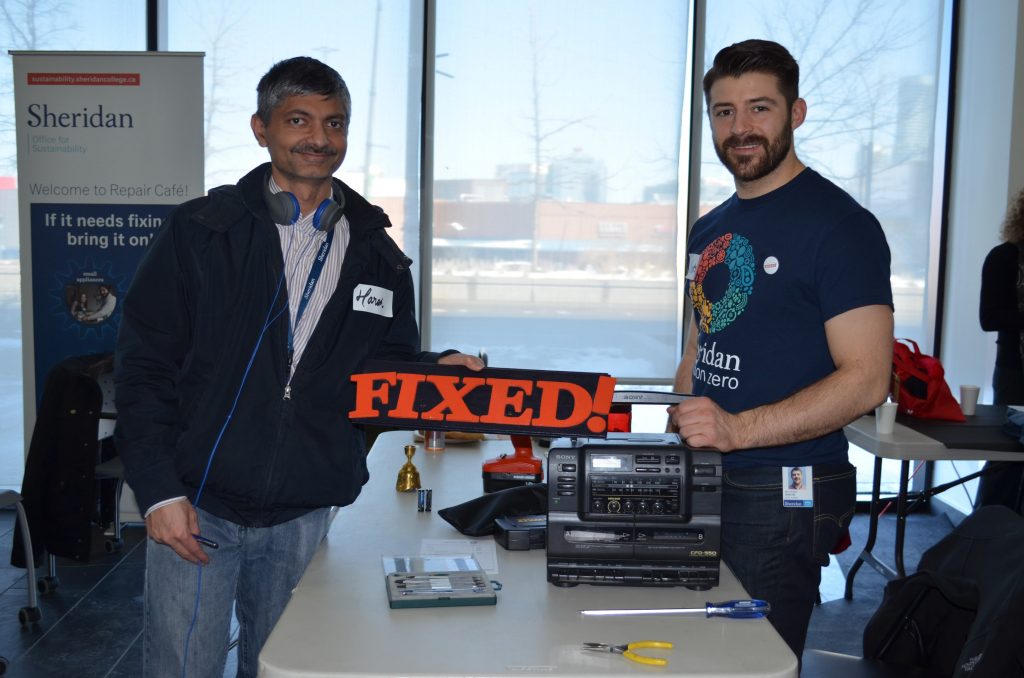 At the Repair Café, you can get help to fix small appliances, electronics, computers, clothes and plants.
Repair Café Details:
Date: Thursday, March 21, 2019
Time: 11:30 a.m. – 2 p.m.
Location: Learning Commons and the "Pit", C-Wing, Trafalgar Campus
All members of the community are welcome! Join us and celebrate Sheridan's commitment to its Mission Zero plan as we strive to reduce the amount of waste that is sent to landfill and change society's 'throwaway' mindset. Plus, it's FREE!
Reminders for Repair Café Visitors:
If you are planning to join, please arrive early to avoid lineups. Registration may close at 1:30 p.m.
The fixer will work with you to repair your item. You will need to be present throughout the repair process.
Bring all the accessories of your item if they are available (e.g. cable, manual) to help diagnose the problem.
Bring a necessary part to test if you can (e.g. a working bulb for your lamp, a CD for your CD player, a monitor for your CPU unit)
Anyone is welcome to visit the Repair Café with or without a broken item. Our fixers can answer your questions and provide advice on how to repair and maintain your items.
If you have any questions, please email the Office for Sustainability at missionzero@sheridancollege.ca.
Volunteers Needed
We are looking for more volunteer fixers to join us. If you are interested, please feel free to get in touch.
You can find out more information about Sheridan's Repair Café in the following sites:
To learn more about the Repair Café's global network, visit repaircafe.org.