Pollinator Stewardship Day at Sheridan Trafalgar Campus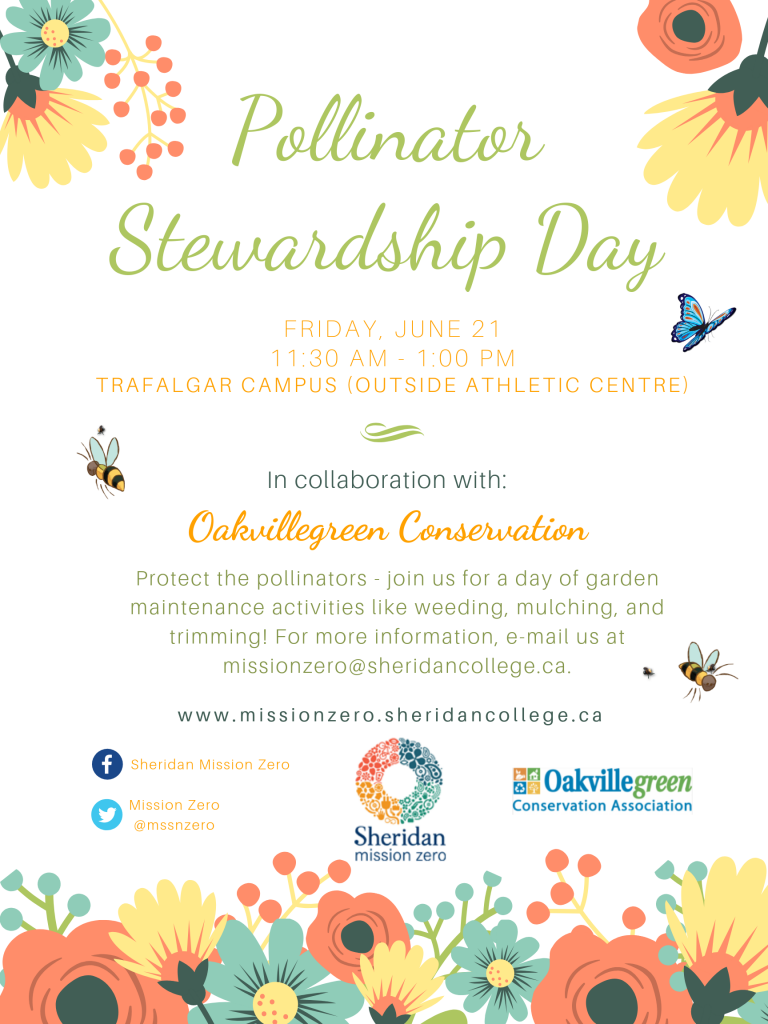 Do you like gardening? Would you enjoy working together with other community members to enhance biodiversity on campus?
The Pollinator Stewardship Day is a great opportunity for everyone to come outside and enjoy a few hours of gardening while helping the native bees! In collaboration with Oakvillegreen Conservation, we are dedicated to help preserve our pollinators during the maintenance session of the Wildflower and Medicinal Wheel Gardens. We will mulch, remove invasive species, and trim native grasses with the purpose of making a great habitat and food resource for pollinators like bees, butterflies, and hummingbirds.
This would be a great opportunity to ask questions about invasive and native species and learn valuable gardening skills that can be applied to your own garden as well. Come prepared to get your hands in the dirt! Tools and gloves will be provided, but you are welcome to bring your own gloves and other supplies as well.
P.S. If you are a Mission Zero volunteer – GREAT NEWS! The volunteer hours accumulated throughout this event will count towards your CCR.
Conservation at Sheridan
Wild pollinators are important contributors to the health of the ecosystem and agroecosystem, so it is important to help conserve their habitats and their food sources. The Wildflower Garden and the Medicine Wheel Garden at the Trafalgar Campus have been created as pollinator-friendly gardens to serve such purposes.
Details: