Nominate your Mission Zero Hero!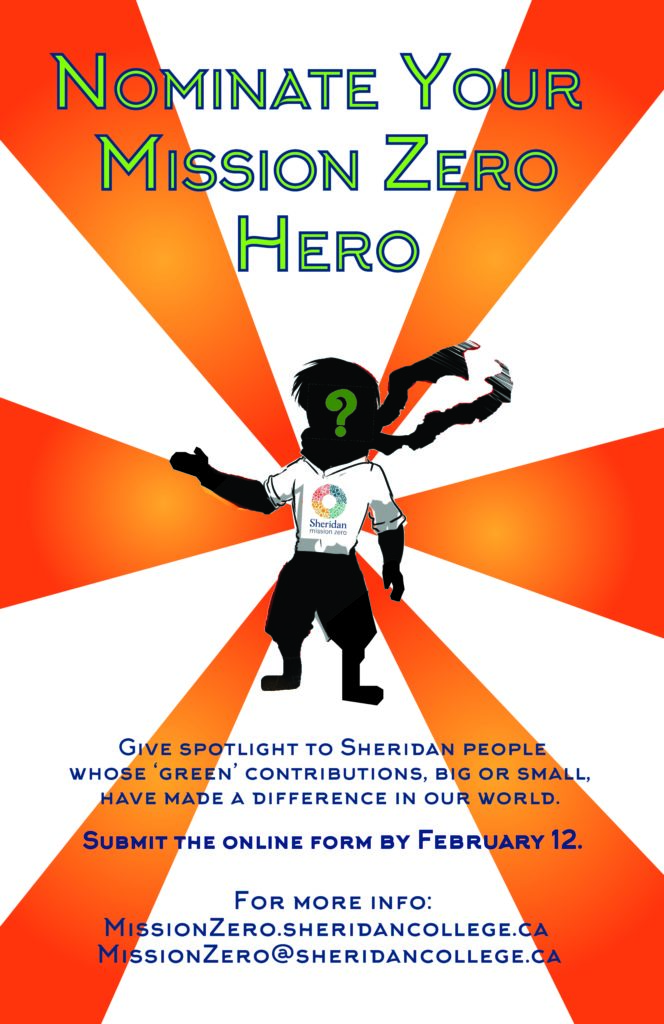 Who do you admire for their sustainable and 'green' contributions to the Sheridan community and beyond? Who is the person at Sheridan who inspires you to make a difference for the environment?
If an employee or student comes to mind, we encourage you to put their name forward as "My Mission Zero Hero" – a Sheridan Green Team-organized campaign aimed at celebrating Sheridan people whose contributions, big or small, show they are passionate in making positive change for the environment and their community.
Submissions, which include a short written and photo component, will be curated and shared on Sheridan's social media channels and other digital platforms from February to April. All heroes will be recognized in honour of Earth Day on April 22, 2021.
About Mission Zero
Mission Zero is Sheridan's framework for institution-wide sustainability initiatives. It is an ambitious mandate to re-envision the College's energy future, make significant reductions in its institutional footprint, and meet breakthrough performance targets. It is guided by the institution's Office for Sustainability and represents operational and cultural goals, driven by Sheridan's Sustainability Policy. Mission Zero embodies the journey toward transformational systemic change and accelerates the creation of a campus-wide sustainability culture.


Nominate a Hero
Click here to nominate your Mission Zero Hero. Please fill out the form by Friday, February 12.
If you have a question about this campaign, please feel free to contact us by email at missionzero@sheridancollege.ca.
Thank you in advance for your participation in this campaign!