Need your CCR hours? SIGN UP NOW!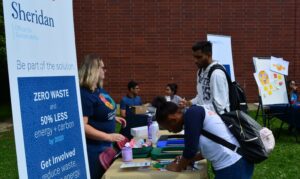 There's a lot of messaging out there on how we can do our part to help our planet. Donate to this cause. Boycott that company. Stop using that but start using this. Save the turtles. Save the whales. Save the bees! All on top of schooling, homework, and volunteer hours, it can get a bit hectic! But what if you could do both at the same time?
If you're a Sheridan student looking to fill your CCR hour requirement, while helping the environment, then become a Mission Zero Volunteer this summer.
You can begin learning how to make your difference on June 22nd with our Online Summer Information Session. From there, you can join our green events, learn how to record your hours properly, and adapt your lifestyle for a sustainable future.
Spots are available until June 21st, and you can sign up here.
Let's see what we can do together.