Meet Sheridan's Mission Zero Heroes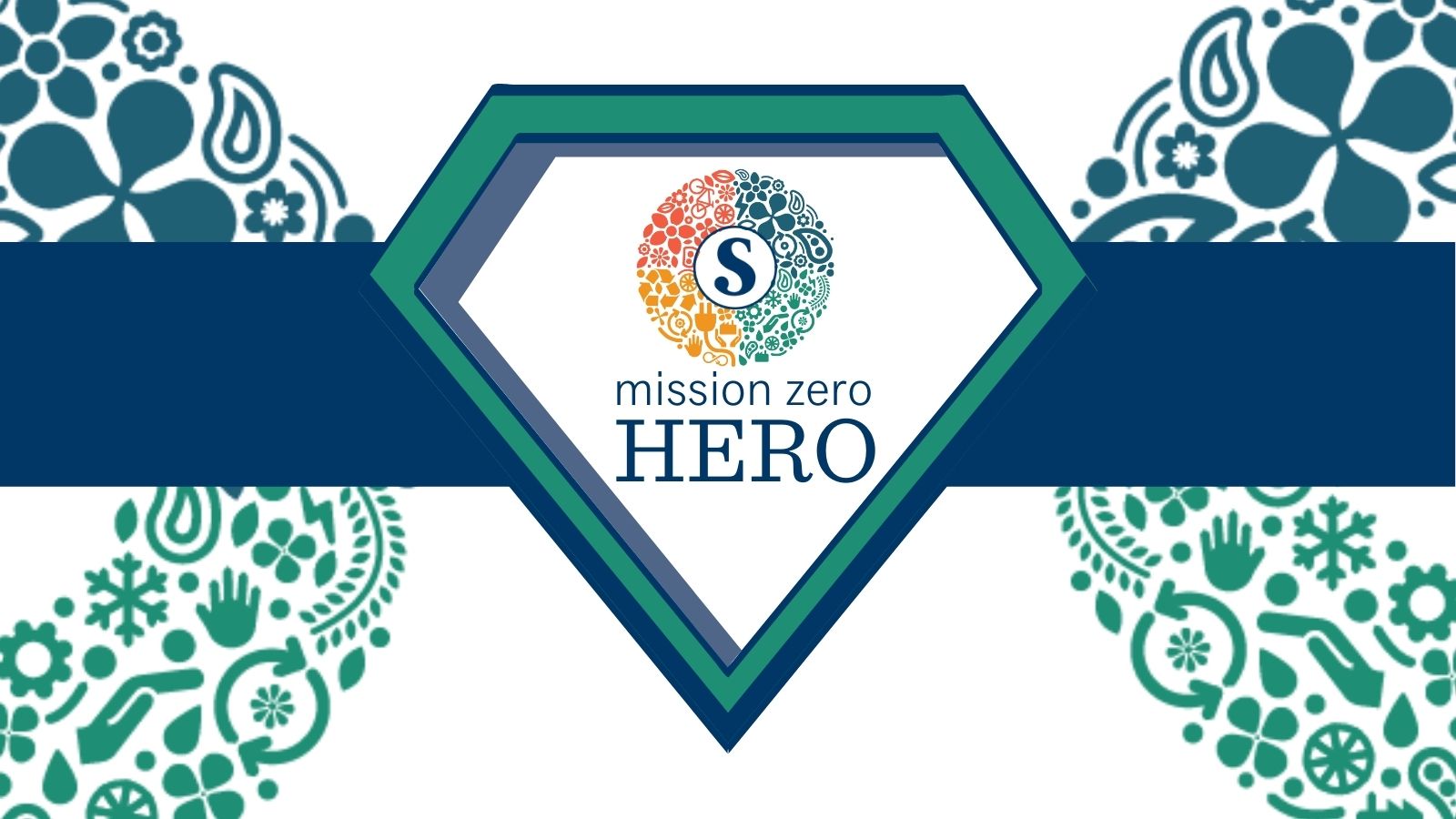 Earlier this year, we asked you to nominate a peer or colleague whose contributions, big or small, show they are passionate about making a positive impact on the environment and their community.
You delivered! We're excited to introduce you to the first-ever group of Sheridan Mission Zero Heroes. Read on to learn what makes these 15 honourees deserving of such a title: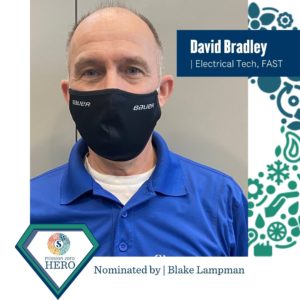 David Bradley, Electrical Technologist, FAST
David was a driving force behind the renewable energy course for the electrical program in FAST. He was involved with many of the design ideas for the renewable energy program and received a research grant for a proposal for a Smart and Green Irrigation Monitoring System. He's set up a Tesla power wall display in the electrical lab as well as chargers for electric vehicles. David designed a solar panel system so students can get real time readings for how much power can be stored from the panels when placed out in the sun.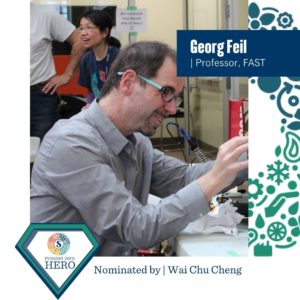 Georg Feil, Professor, FAST
Georg teaches in the School of Applied Computing and has volunteered as a Repair Café Fixer since the program launched at Sheridan in 2014. With an engineering background and 40 years of do-it-yourself fixing experience, he's brought life back to many broken household items such as laptops, a microwave oven, cell phones , a paper shredder and more. His efforts help others and contribute to changing the throwaway mindset of society.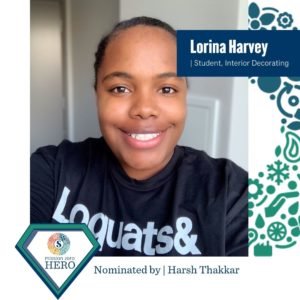 Lorina Harvey, student, Interior Decorating
Lorina was part of the dedicated group of Sheridan Community Garden volunteers who in 2020 grew vegetables including beets, carrots, tomatoes, cucumbers, kale, zucchini, beans and Swiss chard for donation. The harvests assisted people in need through the Kerr Street Mission in Oakville and Brampton Regeneration Outreach in Brampton.
Lydia Novak, Career Counsellor, Student Affairs
Lydia, a member of Sheridan's Green Team, has a love for the environment and her surroundings that's evident in many ways. During a trip to Malaysia, she participated in the start of an ocean clean-up initiative where a group of scuba divers helped remove debris and garbage that was entangled in the coral reef. Spending time outdoors hiking and mountain climbing, she often forages for delicious tree and oyster mushrooms. Lydia is the recipient of the Individual Excellence Award for the Green Office At-Home Pilot Program in Integrated Learning Services.
Nathan Nettleton, Facilities Project Technologist, Facilities Services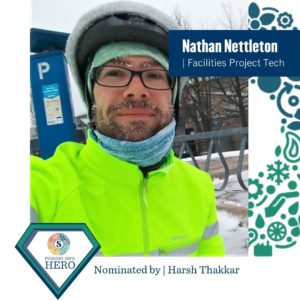 Nathan is an avid cyclist who rides between campuses for work, even making the trip from Davis to HMC to Trafalgar in the same day. At the Sheridan Bike Hub at HMC, he lends a helping hand and encourages others to take up cycling.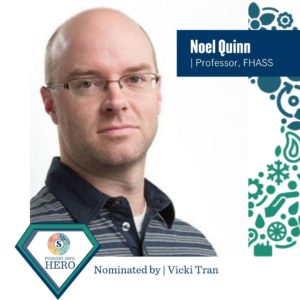 Noel Quinn, Professor, FHASS
Noel developed a sustainability course at Sheridan to help with environmental awareness. He took students for tours on campus to see the sustainability measures implemented at Sheridan and introduced them to the idea of sustainable food sources. He's published work on different aspects of ecology and environmental science and inspired one student to become a volunteer member of the Mission Zero Club.
Sara Varasteh, student, Marketing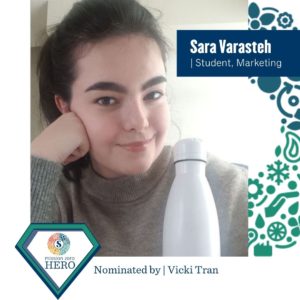 Sara volunteers her time at the Sheridan Bike Hub at HMC, engaging with new students about the hub and what it offers. She made the switch from single-use plastic to a reusable bottle, which is just one example of how she leads by example.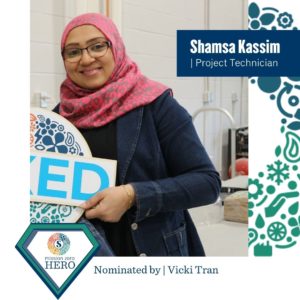 Shamsa Kassim, Project Technician, Facilities Management
Shamsa is dedicated to creating positive changes at Sheridan and home. She often volunteers at and attends Mission Zero events such as campus cleanups, office cleanups, the Repair Café and Bike Hub events. She's always finding ways to incorporate sustainability into her day-to-day life to reduce her carbon footprint.
Stan Weisbeker, Professor, Magna School for the Skilled Trades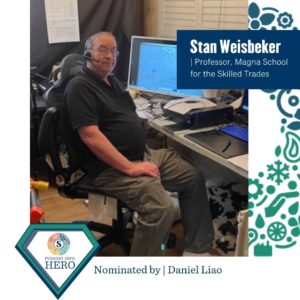 Stan is a renewable energy tinkerer who loves to squeeze every joule out of a sunny day with the solar panels installed at his home. During the pandemic, when his electrical skilled trades course Introduction to Renewable Energy had to be delivered remotely, he built a renewable energy lab inside his home to provide his students with a more immersive experience to learn important concepts. Stan continually reminds and teaches his students that electricians of today and tomorrow need to be well-versed in renewable energy practices and approaches his classes with passion and enthusiasm.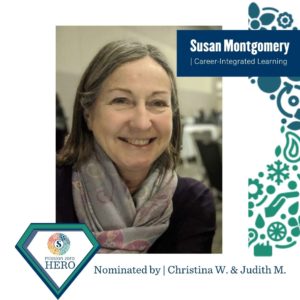 Susan Montgomery, Career Centre Employer Liaison, Career-Integrated Learning
Susan's commitment to sustainability and the environment has encouraged colleagues to join Sheridan's Green team. In the office environment, she educates and informs others about how their actions have an impact on the environment whether it's printing unnecessarily, discarding items that could be donated, and using the recycling bin properly. She's deeply dedicated to the Sheridan Community Garden project, generously lending her tips and tricks for gardening and in turn, boosting the confidence of others to get involved.
Todd Barsanti, Professor, FAAD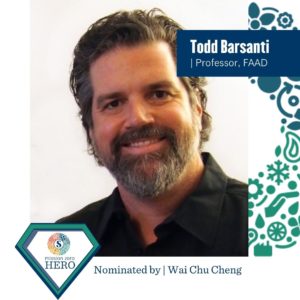 Todd was trained by former U.S. Vice President Al Gore as part of the Climate Reality Project and has given climate talks within and outside Sheridan for the past eight years. He spoke at Sheridan's Climate Action Rally in the fall of 2019 and inspired many students to speak up and get involved. Todd's commitment to the climate cause and impact on students makes him an admirable sustainability leader and role model.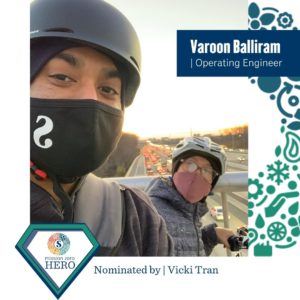 Varoon Balliram, Operating Engineer, Facilities Services
Varoon has been ditching his car to ride from Davis Campus to HMC to reduce greenhouse gases and his carbon footprint. Every trip counts!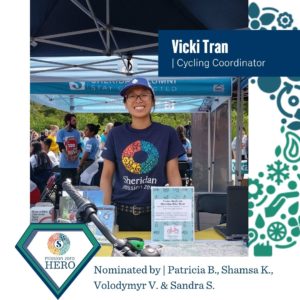 Vicki Tran, Cycling Coordinator, Office for Sustainability
Vicki is always finding ways to educate people on sustainability and is mindful of her relationship with the Earth. Her work has resulted in two bike hubs at HMC and Davis, made successful with her cheerfulness, work ethic and helpful attitude. She walks the talk about sustainable transportation– she bikes everywhere! Her positivity and encouragement have brought success to events like Tour de Sheridan and Bike to Campus Days.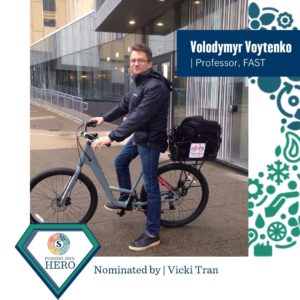 Volodymyr Voytenko, Professor, FAST
Volodymyr was the first person to rent a bike when the rental program opened at the HMC Bike Hub. Since then, he's brought bikes in to learn how to fix them and continue to ride. He's often commuted to different campuses by bike and in his first summer of riding he covered nearly 500 kilometres.
Wai Chu Cheng, Coordinator, Office for Sustainability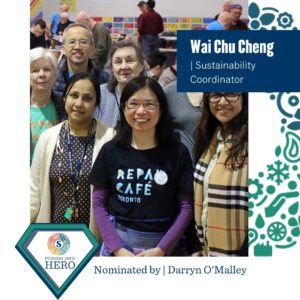 Wai Chu motivates people to be live 'green'. She's educated our community about implementing sustainable practices including the proper sorting of waste so recyclable and organic items aren't destined for the landfill. Wai Chu co-founded the longest-running Repair Café in Canada and brought the initiative to Sheridan. Many students, faculty and staff have been a part of these community-building events that aim to extend the life of broken items and educate participants.
———————————————————————————————————————————–
Keep an eye out on Sheridan's social media channels for special features of each honouree.
Thank you to everyone who submitted a nomination to make this inaugural My Mission Zero Hero campaign a success.
Learn about Sheridan's Mission Zero efforts here.