Join Repair Café and Trash Talk at PAMA this Saturday, February 15!
Join us as Sheridan is partnering with Peel Art Gallery Museum + Archives (PAMA) to offer Repair Café this Saturday! The event will be held from 11am-3pm at PAMA. You are welcome to bring any broken items such as microwaves, toasters, lamps, headphones, laptops, clothing, and toys to get help from our fixers who will also show you how to do the repair yourself.
Repair Café will take place in conjunction with PAMA's exhibit Trash Talk: Local Action, Global Change. Check out the exhibit which showcases some of the innovative initiatives led by the Region of Peel and local organizations. Sheridan is honored to be included.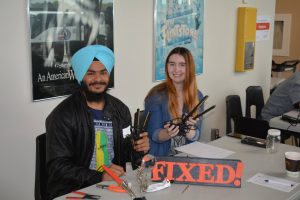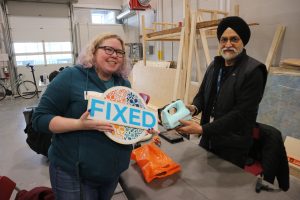 While you are at PAMA, in addition to Repair Café, you are welcome to join a panel discussion on "Waste Reduction and Climate Change" from 1:00 pm-3:00 pm focusing on ways we can be more mindful about the use of products and how waste can be averted. Sheridan's Sustainability Coordinator, Wai Chu Cheng will be joined by Winston Rosser, Food Donor Manager of Second Harvest, and Akeem Gardner, Co-founder & CEO of Atlas 365. Second Harvest is Canada's largest food rescue charity. Atlas 365 grows industrial hemp as sustainable materials to build homes.
What is a Repair Café?
Repair Café is a global movement aimed at reducing waste send to the landfill and changing society's "throwaway" mindset. The movement started in Amsterdam in 2009, and there are more than 1,800 Repair Cafés around the world (learn more here).
Did you know Sheridan was the first post-secondary institution in Canada to offer a Repair Café? It was launched in April 2014 as part of the Mission Zero initiative!
Can you fix broken household items? We are looking for more fixers that can help repair broken household items. Hobbyists and professionals are all welcome! You can sign up to be a volunteer fixer or general volunteer here.
Event Details:
When: Saturday, February 15, 2020
Where: PAMA (Peel Art Gallery Museum + Archives)
Address: 9 Wellington St. E., Brampton, ON, L6W 1Y1
Time: Repair Café runs from 11:00 a.m. – 3:00 p.m. and Trash Talk Panel discussion runs from 1pm-3pm
Cost: Free!
If you have any questions about Repair Café, you are always welcome to contact us at missionzero@sheridancollege.ca.