Winter Office Cleanup
Facilities Services and The Office for Sustainability are partnering to offer the Winter Office Cleanup in each campus on the following days:
Trafalgar campus  – Monday, December 17 – 9 a.m. to 3 p.m.
HMC campus – Wednesday, December 19 – 9 a.m. to 3 p.m. 
Davis campus – Thursday, December 20 – 9 a.m. to 3 p.m. 
During the Cleanup Day in your campus, you can pick up a tote bag from one of the two Community Drop-off Sites in the morning. Back in your office, fill your tote bag with the waste. Then bring your bag filled with waste to a Community Drop-off Sites for recycling, donation or other ways of disposal. 
Below are some common questions you might have about the event.
What are the locations of the Community Drop-off Sites in my campus? What are their opening hours?
Trafalgar campus – 1. Learning Commons, C Wing   2. A117 (adjacent to Shipping & Receiving)
HMC campus – 1. Starbucks, A-wing     2. Creativity Commons, B-wing 1/Fl
Davis campus – 1. A109     2. The Den, Student Centre
All the drop-off sites will open from 9 a.m. to 3 p.m. on the day of the event in each campus (see event schedule above). 
What are the general principles of sorting office waste?
1. Consider reuse before recycle.
2. Recycle items that cannot be reused.
3. Dispose of items that cannot be reused or recycled.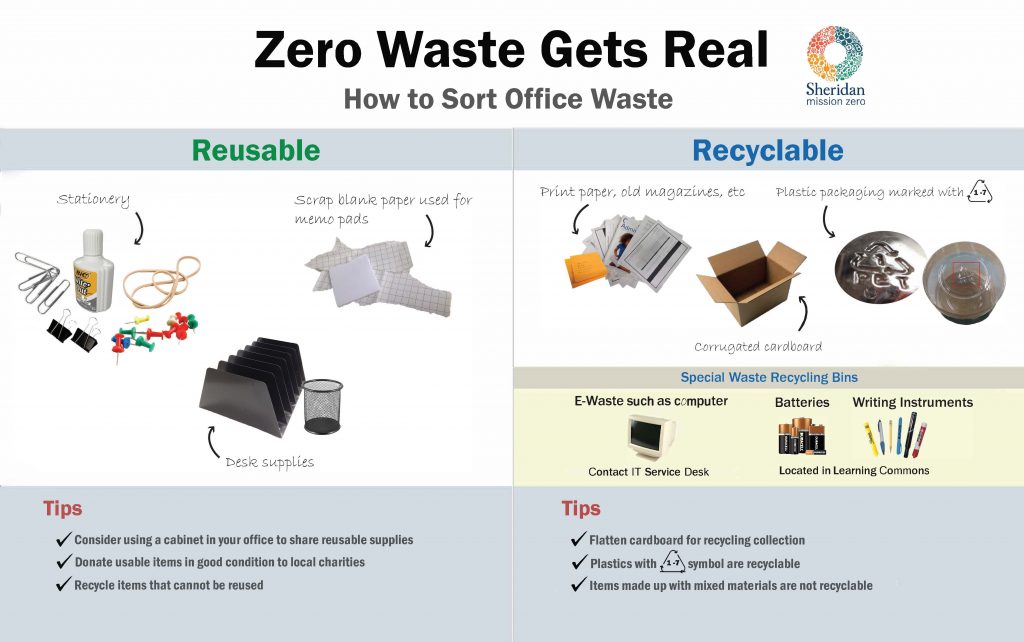 What are acceptable items at the Community Drop-off Sites?
Recyclable waste
Landfill waste
Confidential documents (see the RIM tip sheet at the page bottom)
E-waste, no computers (see the FAQ question on e-waste below)
Batteries for recycling
Reusable office supplies for donation
Books for donation (textbook included)
New or gently used textile items for donation
Pens and markers for recycling
Cardboard for recycling
Metal items or scrap metal for recycling
 
What are NOT acceptable items at the Community Drop-off Sites?
Food or organic waste
Hazardous waste (see information below)
What are the common types of recyclable items?
Used paper products (e.g. sticky notes, notebooks – remove any binding coils)
Cardboard (flatten them)
Plastics containers with recycling symbol #1-7
Metal materials
What is considered as landfill waste?
Not recyclable used stationary (e.g. notebooks made of mixed materials)
Plastics (e.g. cutlery, wrappers, plastic bags, packaging)
Other (e.g. styrofoam, canvas boards)
During the Cleanup event, can I request moving service for bulky or heavy items?
You can make a moving request in person at the Community Drop-off Site. To avoid lineups, please arrive early. The drop-off sites are open from 9 a.m. to 3 p.m.
For removing surplus furniture from your office, please provide the Surplus Furniture Removal Request form (see next question). 
You can request a red bin from a Community Drop-off Site to collect waste at your office. If it is too heavy for you to carry the bin when it is filled up, you can request the moving service from the Drop-off Site.
Please note that the moving service will be provided for collecting waste from the office areas, not studios or laboratory areas. 
What is the procedure for removing surplus furniture from my office? 
Faculty or staff members can make the removal request in person at one of the Community Drop-off Sites. Please complete the Surplus Furniture Disposal Request form with the approval from your department manager. The furniture removed from the office areas will not be replaced with new furniture.   
You can download the disposal request form by clicking on the link here: Surplus Furniture Disposal Request – Winter Office Cleanup
What will happen to the furniture being removed from the office areas?
The furniture items will be classified into three streams. First, those items that are in good conditions and likely to be reused for other spaces on campus will be kept by Facilities for future use. The furniture items that are in usable conditions but no longer suitable for campus use due to its outdated model, size or mild damage will be donated to charitable organizations after the event. Finally, the furniture items that are too old or broken to be used, repaired, or re-purposed will be scrapped.
How to dispose of electronic waste?
Old, broken, unusable electronics of low value (i.e. mice, keyboards, cables, adapters, small desktop printers, etc.) can be disposed of at the e-waste recycling bin at a Community Drop-off Site. For items such as desktops, laptops, larger photocopy or MFD print devices,  please open a case with the IT Service Desk for a proper review and handling of the item. If unsure, please ask at the Service Desk.
How to dispose of hazardous waste?
Hazardous waste items are picked up quarterly. For any questions, please contact Patchardo Mulholland at Health and Safety Department.
Where to donate non-perishable, unopened food items?
Food Donation dropboxes are located at the Student Centre and various buildings in each campus. Please contact Sheridan Student Union for any questions.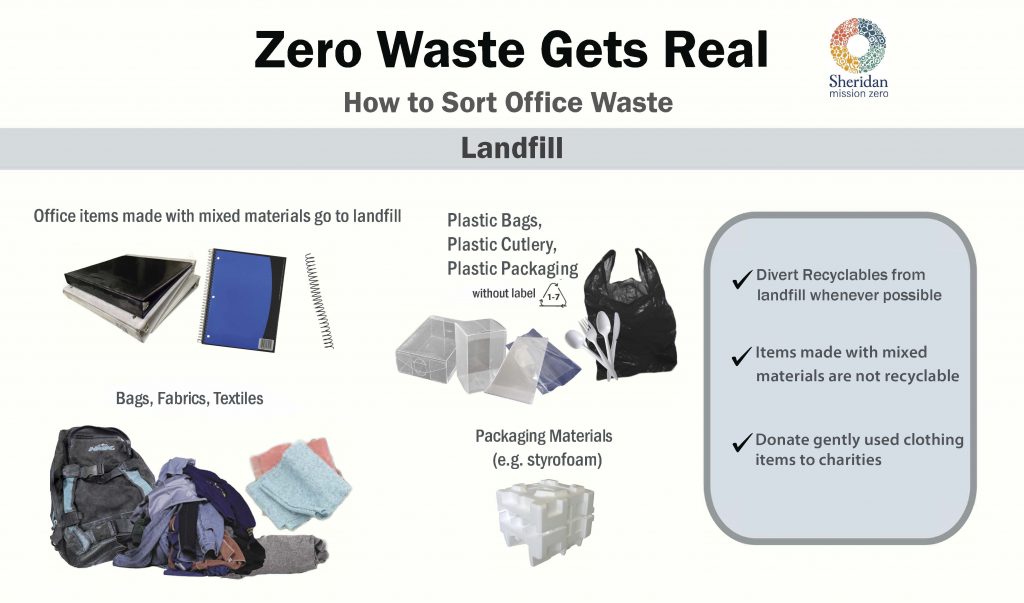 Can I participate even if I'm away on the day of the event?
You can still participate by doing your own cleanup in advance and asking your the colleagues to request a pickup service at the Community Drop-off Site during the day of the event. Your colleagues can sign out a bin for you and fill it up with your waste, which will then be picked up by the moving crew.
What are the raffle prizes?
Participants can also sign out a bin for collecting additional waste from their office. You will receive a raffle ticket for each bag or bin of waste you bring back to your Community Drop-off Site. To recognize your support for the Office Cleanup event, a raffle prize of a free team lunch from Subway will be offered at each campus. The raffle draw results will be announced in January.
How to dispose of confidential documents?
Please follow Sheridan's policies on records management and privacy,  which is available on Access Sheridan or in Sheridan's Policy Viewer.  You can also refer to the steps as outlined in the tip sheet provided by Records and Information Management (RIM) Office below. For details, please visit the RIM website.
You can download the RIM Tip Sheet by clicking here: RIM Tips for Office Clean-up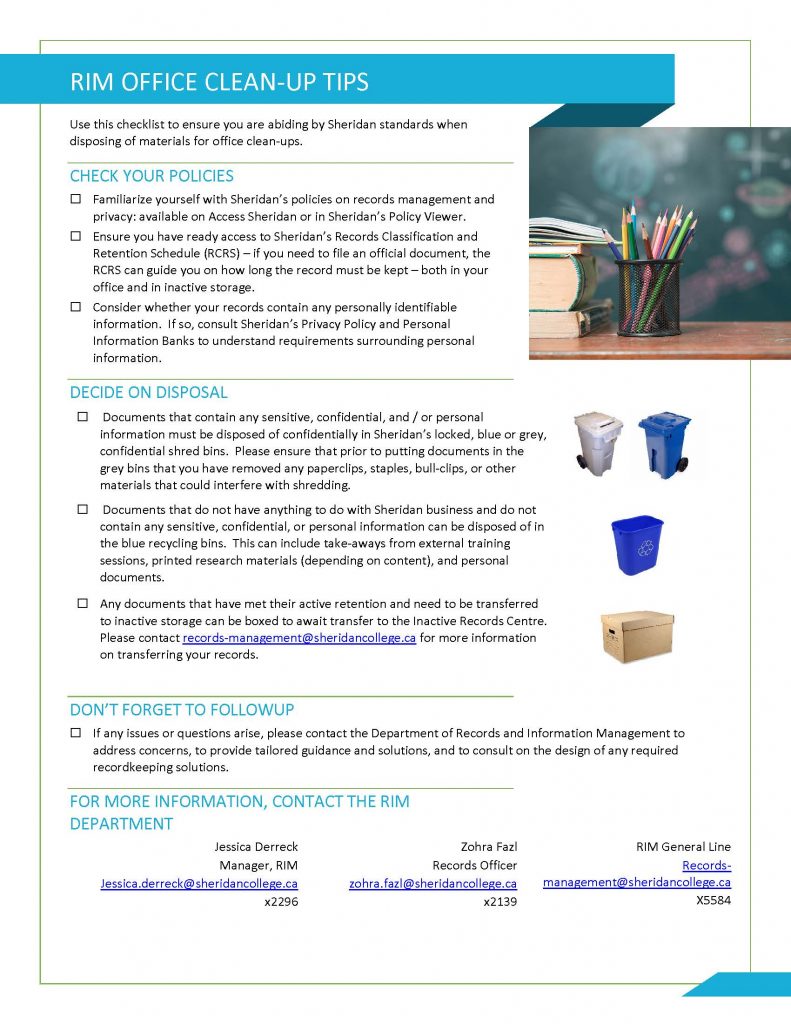 If I have further questions about the Cleanup event, such as how to handle/sort the unwanted items in my office, who should I contact? Are there any waste sorting guidelines available online?
You can email your question to The Office for Sustainability (OfS) at missionzero@sheridancollege.ca. During the week of the Office Cleanup from Dec 17 to 20, as all the staff will be working at the Community Drop-off Sites, it may take at least one business day for OfS to reply.
You are welcome to visit a Community Drop-off Site and the staff and volunteers, the staff and volunteers there will be happy to answer your questions and provide any assistance needed.
You are welcome to download the waste sorting guidelines by clicking the links below: