Join Us For Davis Campus Cleanup Day – October 5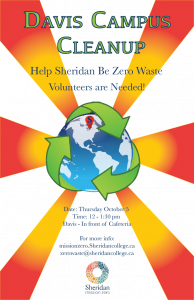 Davis campus is having another cleanup day!! Mission Zero is looking for volunteers to help make Sheridan College a zero waste campus by picking up litter on Thursday October 5th. We welcome students, staff and faculty to help pick up litter near the pond and the other surrounding areas.
We will meet in front of the Davis campus cafeteria at 12 pm. Volunteers will be collecting waste in groups if you like or individually. There you will be given gloves and a bag to place the litter in. Also, there will be awards given to the heaviest weighted items collected and the most unusual waste item. For more information on what will be taking place at the event read this post.
Please come out and help even if you only have 30 minutes to spare.
If you have any questions email us at zerowaste@sheridancollege.ca
Event Details
Date: Thursday, October 5, 2017
Time: 12:00pm – 1:30pm
Meeting Location: Cafeteria Entrance, Davis Campus