Join us at Davis for the Transit Fair – July 10!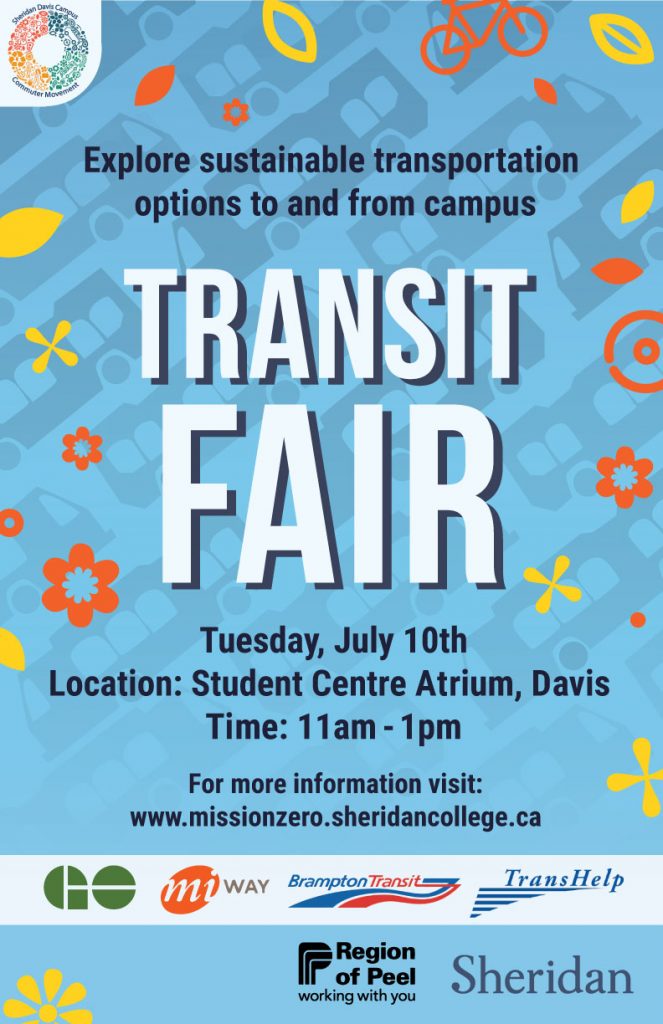 Come out and meet the representatives from our local transit providers, including Brampton Transit, GO Transit, PRESTO, MiWay, and TransHelp. They will be on hand to answer any of your questions and provide you with useful information. As well, there will be interactive games and giveaways!
Event Details:
Attendees: Anyone from the Sheridan community
Date: Tuesday, July 10
Location: Sheridan Student Centre Atrium, Davis Campus
Time: 11:00 am – 1:00 pm
The Transit Fair is part of Commuter Movement which aims to encourage Sheridan's Davis community to be more aware of sustainable transportation options and try these various modes to commute to campus. Through this collaborative project, Sheridan Office for Sustainability and The Region of Peel would like to encourage everyone to adopt greener commuting behaviour which is beneficial to us all and to the environment. On a personal level, in addition to saving money, taking sustainable transportation leads to a more active, healthy lifestyle. On a city level, as a result of fewer vehicles on the road, less greenhouse gases will be emitted into the atmosphere and the air will be cleaner.
To learn more about Transportation and The Commuter Movement project: Click Here