Earth Hour at Sheridan
On Saturday, March 25th Sheridan participated in Earth Hour with millions of other businesses and individuals from around the world.
Earth Hour is an annual event organized by the Word Wildlife Fund (WWF) to raise awareness about climate change. Businesses, organizations, residents, and governments around the world participate by powering off their lights from 8:30-9:30 PM. Earth Hour began in Australia in 2007 and has since grown into a worldwide event.

Sheridan's Trafalgar, Davis, and Hazel McCallion campuses participated by turning off non-essential lights as well as select mechanical equipment. Starting at around 8PM on Saturday, Sheridan's electricians went around the campuses to shut off corridor lights and certain outdoor lights. The new lights on the DALI system and mechanical equipment controllable through the Building Automation System were shut off or dimmed down through computer software.
Earth Hour around the World
WWF estimates that 2017 was the largest Earth Hour ever! Over 187 countries and territories participated and more than 3,100 of the world's iconic landmarks and monuments were switched off. The event was also popular on social media with over 3.5 billion campaign hashtags and millions of people engaged through Facebook. See "At a Glance" below from www.earthhour.org.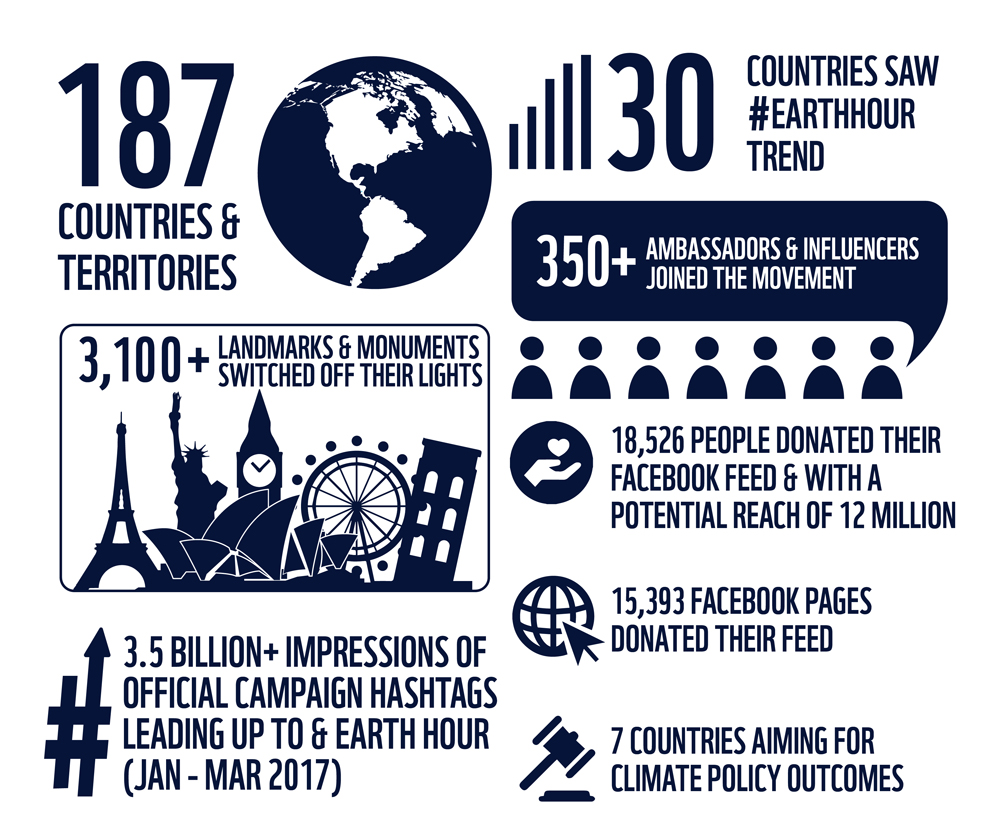 Source: https://www.earthhour.org/2017-highlights
The Impact
You might wonder how much of an impact shutting down a few lights for an hour would have. How much electricity was actually saved?
Luckily, as part of the Integrated Energy and Climate Master Plan (IECMP) to reduce Sheridan's energy use by 50% by 2020, sub-meters have been installed at Davis and Trafalgar campuses to monitor individual building's energy use in 5-minute intervals. Previously only monthly data were available from utility hydro invoices. Sub-metering allows us to nail down the impact of Earth Hour.
Most Sheridan buildings drew about 15% less power than a typical Saturday night. J-Wing and the Student Centre at Davis Campus used about half the power than normal! J-Wing saved about 40 kWh of electricity during this one hour, which may not sound like much, but it's enough to power an Ontario home for a day and a half!
The graph below shows the amount of electricity demand of Davis J-Wing. You can clearly see the dip in power draw during Earth Hour.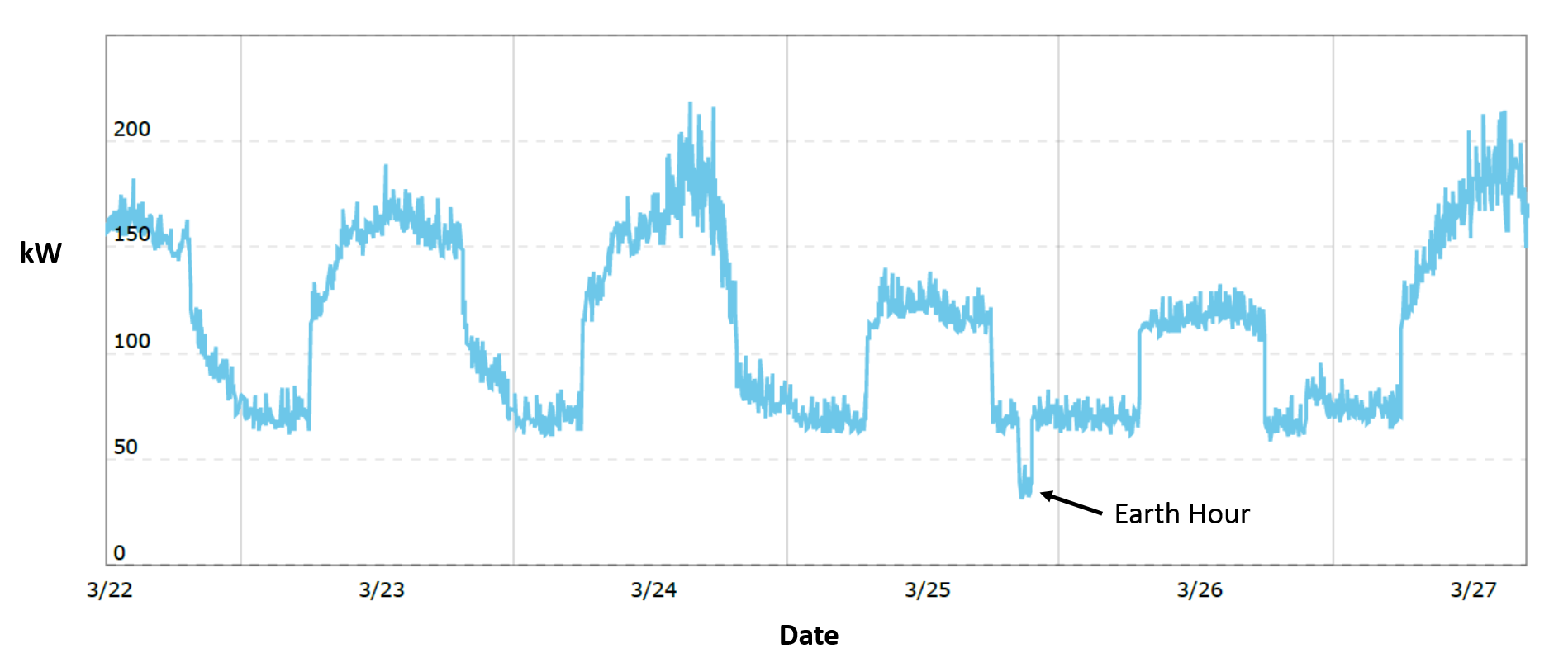 Although the data are not available, additional electricity use was also likely reduced at HMC, which also participated in Earth Hour.
Beyond the Hour
Earth Hour is meant to be more a symbolic awareness-raising event rather than a strategy to reduce energy use and greenhouse gas emissions. By quantifying the impact of Earth Hour at Sheridan, we hope to showcase the magnitude of Sheridan's energy use compared to a typical home and to highlight the impact that businesses can have by participating in energy efficiency programs.
Interestingly because Earth Hour occurs on a Saturday night, the reduction in energy use is not as significant as it would be when the buildings are fully occupied during the day on weekdays. You can see this in the graph above where Saturday and Sunday electricity demand at Davis J-Wing is much lower than the weekdays.
Furthermore, Sheridan is switching most of its lighting to LEDs, which use less energy than standard incandescent bulbs. This means that Sheridan is already using significantly less energy to light its buildings; therefore the reduction in energy use during Earth Hour is smaller. In addition, Sheridan is implementing occupancy sensors, the ability to dim lights, daylight harvesting (where lights near windows reduce or turn off when it's sunny outside), and the ability to schedule lights to be off during typically non-occupied building hours such as nights, weekends, and holidays.
In addition, as part of its IECMP, Sheridan is also working to gain control over heating and cooling of spaces and improve energy efficiency. This helps us reduce our carbon footprint and reliance on fossil fuels every day, not just during Earth Hour.
Individuals can still help us reduce energy use by turning off lights when you leave an empty room, shutting off your computer and monitor when not in use (as well as at the end of your work day), and letting Facilities know when your space is too hot or cold.
Thank you to everyone who made this year's Earth Hour possible including Facilities managers and operations staff, Security & Parking, Health & Safety, Communications and External Relations as well as everyone who participated. For questions/comments about Earth Hour or what you can do to go "Beyond the Hour," contact the Office for Sustainability at missionzero@sheridancollege.ca.