Bike to Work Day at your Campus in Celebration of Bike Month!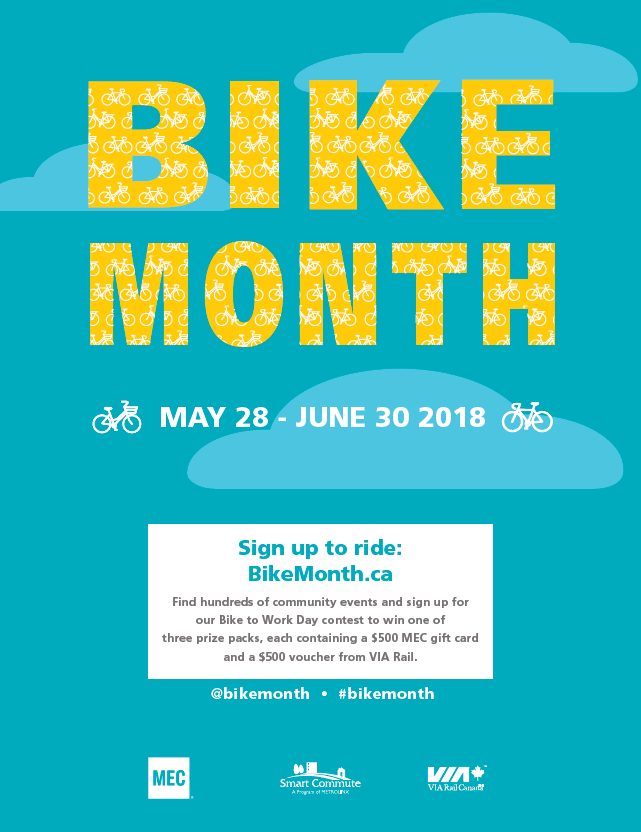 It's Bike Month! During this period from May 28th to June 30th, there are hundreds of rides and events across the Greater Toronto Area, Hamilton and Guelph. Look for cycling events near you at www.BikeMonth.ca! You can enter their contest before June 4th for a chance to win $500 MEC gift card and $500 voucher from VIA Rail.
In support for Bike Month, we would like to invite our Sheridan community members to join us for our Bike to Campus Day at the Sheridan campuses. Ride your bike, enjoy some fresh air, light breakfast snacks, giveaways, a chance to meet other cyclists and to win some awesome prizes. Click on the link below to get details of the event for your campus.
HMC Campus
Date: Tuesday, June 19th
Time: 7:30 – 9:00 a.m.
Meeting Location: Outside A Wing, South Entrance
Davis Campus
Date: Wednesday, June 20th
Time: 7:30 – 9:00 a.m.
Meeting Location: Outside A Wing Entrance by Lot 1
Trafalgar Campus
Date: Thursday, June 21st
Time: 7:30 – 9:00 a.m.
Meeting Location: Picnic table outside Cafeteria
All Sheridan members are welcome! Please register with the link above by Monday, June 18. If you have any questions, please contact Vicki Tran, Cycling and Sustainable Transportation Coordinator, at
vicki.tran1@sheridancollege.ca
. Feel free to check out the Office for Sustainability
website
for more events.